Uniswap users received 78% of free UNI tokens in the first week after the launch of the cryptoasset. The total dollar value of the distributed tokens is about $ 599 million.
According to Dune Analytics, eligible participants in the Uniswap DeFi protocol have laid claim to roughly 78% of the existing UNI offering – just under 117 million tokens to govern the protocol. At the current UNI market price of $ 5.12, this means that tokens worth about $ 599 million are distributed among the platform participants.
The popular decentralized exchange Uniswap launched its own UNI token to govern the protocol last Wednesday . The token has been trading on Binance almost since its launch. Then Uniswap announced that it would transfer 400 UNIs to each address that used the protocol until September.
According to the developers of the platform, 4 billion UNI tokens will be issued and distributed among the community members over the next four years. As of September 24, about 190,000 holders of suitable wallet addresses have requested their tokens, with nearly 140,000 users doing so the day after the launch announcement.
The number of applicants has dropped over the past week: on Wednesday, tokens were demanded by the owners of 1,557 addresses and just under 500 addresses on Thursday.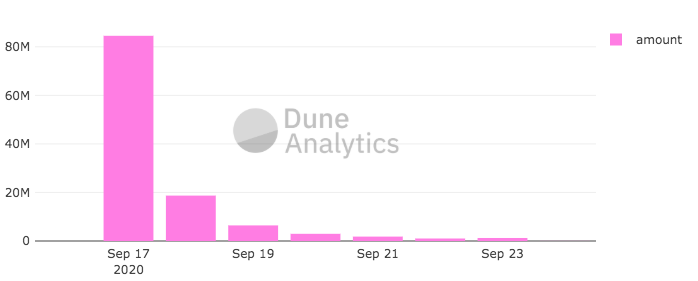 Recall that on the night of September 19-20, the UNI token price decreased by 30% from $ 7.37 to $ 5.13. The token's daily trading volume also fell from $ 6 billion to $ 2.2 billion.