Today, Bitcoin is trying to rise above $ 10,000 again, accompanied by a rise in altcoins. Cryptocurrency market capitalization has returned to levels above $ 300 billion.
On the afternoon of July 26, at about 13:00 Moscow time, the bitcoin rate jerked up, for the first time since June 2, breaking through the $ 10,000 level. On some exchanges, the price managed to rise to $ 10,200. But like two months earlier, the jerk was followed by a pullback to $ 9,800, after whereby the rate stabilized slightly above $ 9,900.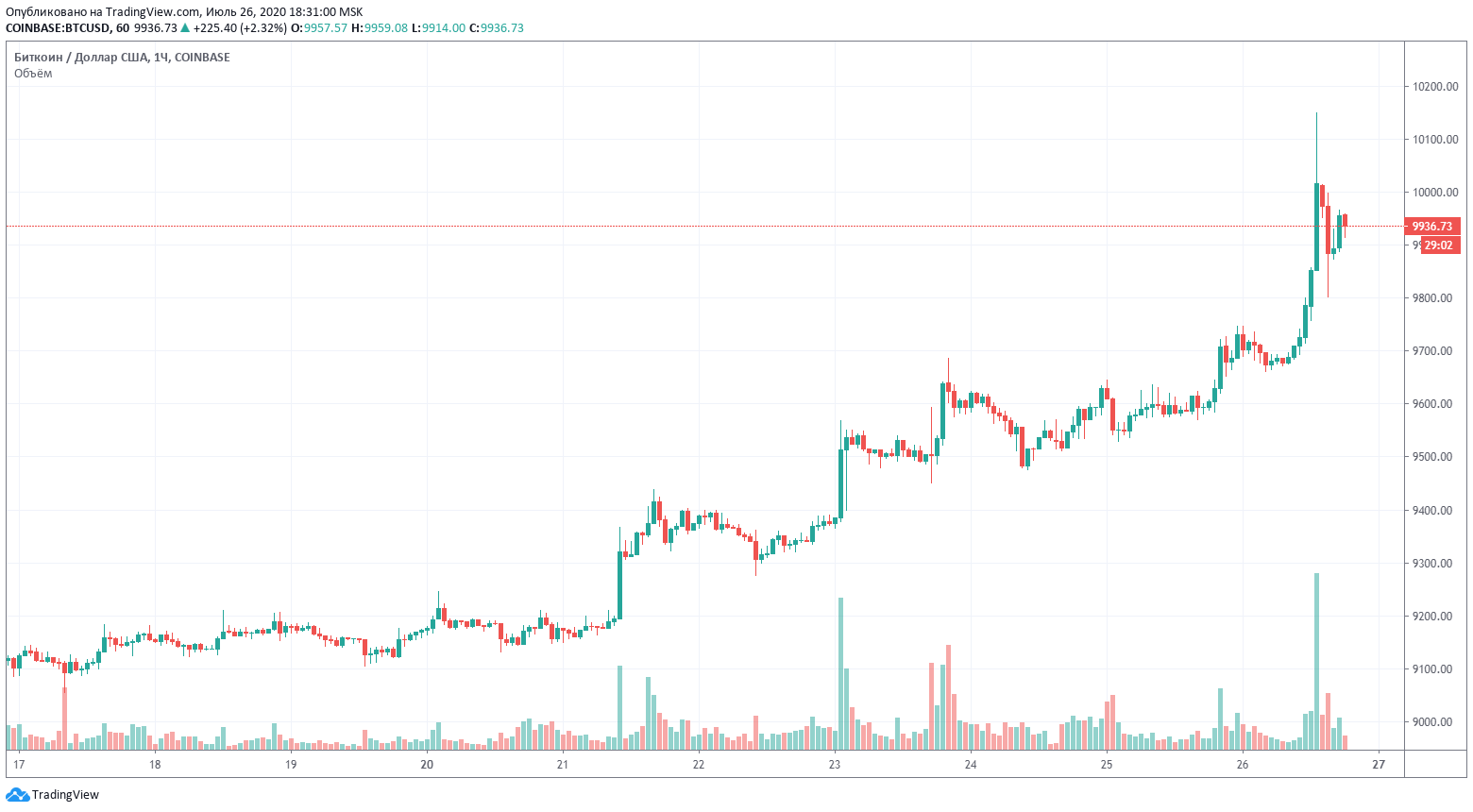 Source: Tradingview
So far, there is no complete confidence that the breakout will not turn out to be false, like the previous one, since it is not supported by a noticeable increase in trading volumes. The movement of the rate in the coming days will show whether BTC will be able to gain a foothold above the broken level, or roll back down, continuing the formation of a long correction. An important factor on Monday will be the direction of the opening of commodity and stock markets, as cryptocurrencies have shown significant correlation with them lately.
The total cryptocurrency market capitalization today also surpassed the "round" figure, rising above $ 300 billion. Despite the BTC correction, it has managed to hold the level so far. This is primarily due to the significant increase in airtime in recent days.
The second largest cryptocurrency in terms of capitalization has risen above $ 300 today, and in the last five days alone, ETH has grown by almost a third – from $ 230 to $ 320 according to the average values. Ether growth is fueled by information about the successful testing of Ethereum 2.0 and the upcoming launch of the final version of the testnet, scheduled for August 4th.