According to Crystal Blockchain, since 2011, criminals have been able to steal about $ 7.7 billion in cryptocurrencies. In total, 113 cryptocurrency exchanges were hacked and 23 major fraudulent schemes were implemented.
Crystal Blockchain, the analytical arm of Bitfury, analyzed the largest attacks from 2011 to 2020, including cryptocurrency exchange hacks, fraudulent schemes and pyramids. According to the report , in almost ten years, criminals have earned $ 2.88 billion from hacking of cryptocurrency platforms, and $ 4.8 billion from fraudulent schemes.
The PlusToken scheme, closed in 2019, became the largest cryptocurrency pyramid , which raised about $ 2.9 billion in BTC, ETH and EOS. The largest exchange hack remains the incident with the Japanese marketplace Coincheck in 2018, when hackers stole NEM worth about $ 535 million.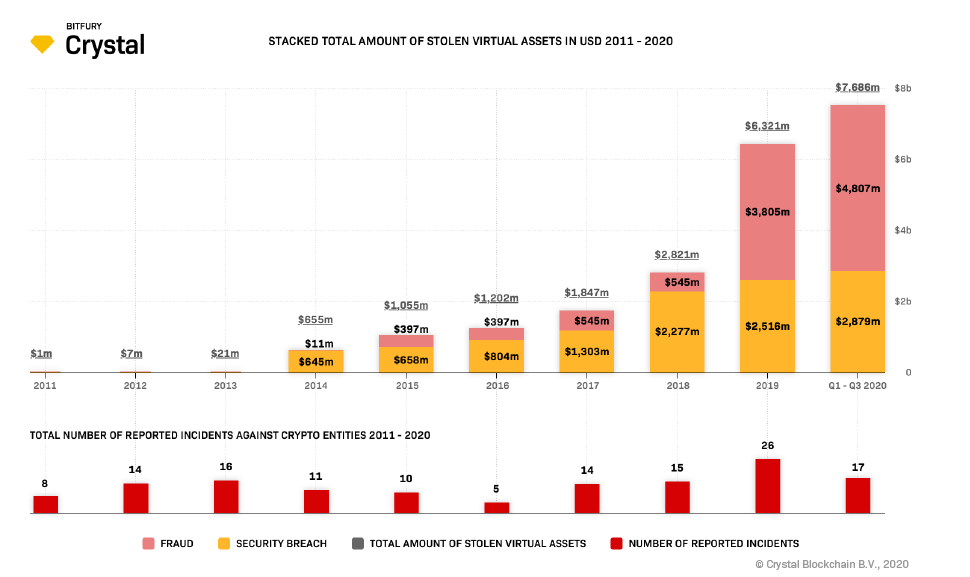 Proceeds of criminals from exchange hacks and fraudulent schemes from 2011 to 2020 and the number of incidents reported per year. Source: Crystal Blockchain.
The USA ranked first in the number of incidents in the industry. Since 2011, U.S. cryptocurrency companies have been targeted 13 times by cybercriminals. However, in terms of the amount of stolen cryptoassets, China leads, which is mainly associated with the PlusToken and WoToken cryptocurrency pyramids. Also, many cryptocurrency exchange hacks and scams have taken place in the UK, South Korea, Japan and China.
The number of incidents reported from 2011 to 2020 by country. Source: Crystal Blockchain.
In 75% of cases, cybercriminals tried to withdraw stolen crypto assets through exchanges with a low level of verification. According to Crystal Blockchain, about 43% of all stolen funds were laundered through dubious exchanges, such as BTC-e. At the same time, only 3% of the stolen cryptoassets were withdrawn through mixers, and about 1% through the darknet markets.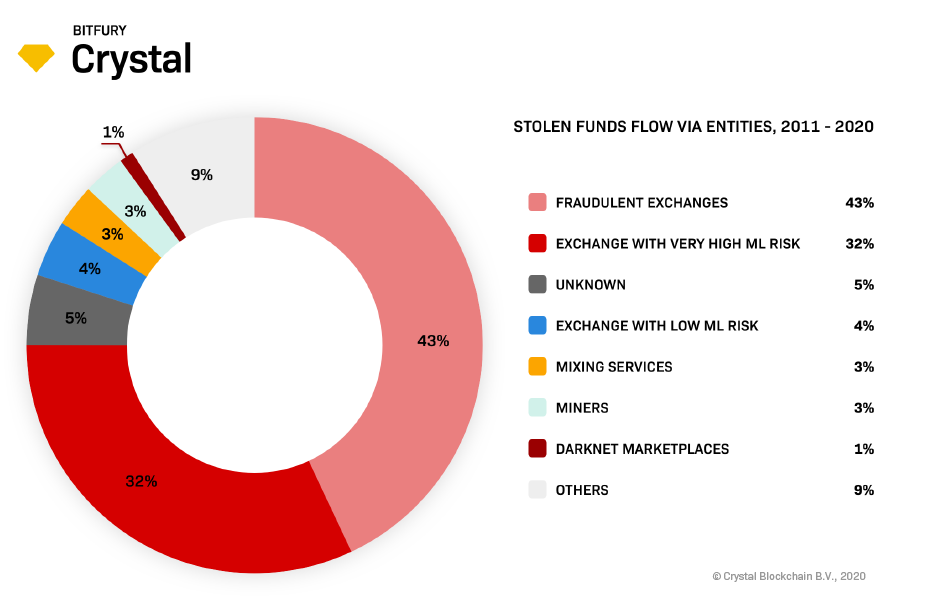 In conclusion, analysts note that the number of cyber attacks on cryptocurrency projects has remained relatively high over the past few years. Most often, large cryptocurrency exchanges are hacked. Experts believe that with the continued growth of the industry, the number of crimes in the sector will grow.
According to analysts, cryptocurrency exchanges should create special funds to insure users' money, have their own security service, blockchain analytics software, and reserves equivalent to the number of cryptocurrencies stored in online storage. These mechanisms will prevent the loss of users in the event of a breach.
As a reminder, according to analytical company CipherTrace, losses from cryptocurrency fraud have decreased this year, but the number of crimes in the DeFi industry has increased.