Bitcoin is again above $ 12,000, but cryptocurrency derivatives traders are in no rush to maintain a bullish trend. Trader enthusiasm was higher two months ago when the price of BTC hit the same level.
When Bitcoin traded for about $ 12,000 in mid-August, funding rates for perpetual futures changed dramatically on the leading cryptocurrency derivatives exchanges, reflecting a bullish market sentiment. However, when the price of bitcoin surpassed $ 12,000 again, traders reacted differently. Funding rates have remained unchanged or turned negative, indicating a lack of optimism among traders.
Funding rates are a unique mechanism for perpetual futures contracts. They are set by the market and change over time as traders open and close positions. When the market is bullish, rates turn positive and long traders pay short sellers. When the market is bearish, rates turn negative and the costs are borne by the short.
Binance, Bitfinex, BitMEX and Deribit futures markets went into negative territory on Saturday and Sunday, according to data collected by Glassnode . However, when Bitcoin surged to $ 12,000 on Tuesday, rates remained negative or unchanged.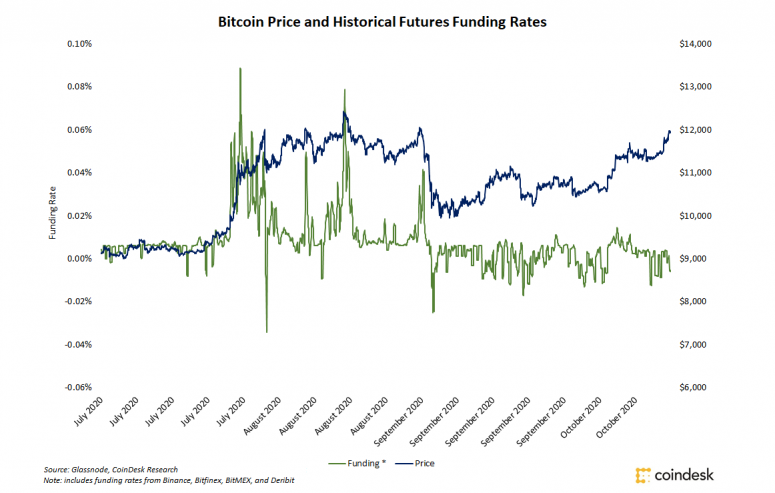 According to Aditya Das, cryptocurrency market analyst at Brave New Coin, a string of negative news over the past few weeks may be causing the markets to be not overly optimistic. In his opinion, traders can be scared and therefore close long positions or open short ones.
Funding rates on FTX and Huobi also remained negative this week, according to  Skew . Futures traders on the largest derivatives exchange in terms of the number of open positions, OKEx, adhered to the "bearish" sentiment against the background of the rising price of BTC. The long-to-short ratio on the exchange steadily declined from 0.79 on Tuesday open to 0.67, as the number of short traders outnumbered the bulls.
Glassnode released data last week that the number of Bitcoin addresses belonging to whales is declining, which could be a sign of an imminent bullish rally.