Analyst company Glassnode noted the large centralization of the LINK tokens of the Chainlink project – only 125 non-exchange wallets control more than 80% of the issued tokens.
The researchers emphasized that the whales continued to increase the share of LINK in their wallets. If in 2019, less than 60% of the total number of tokens was stored on 1% of wallets with the largest balance, now this figure exceeds 81%. 
The growth in the number of LINK tokens on whale wallets has accelerated since July 2019 and continued throughout 2020. According to analysts, there are now only 12,500 active addresses that store LINK tokens. That is, 81% of tokens are stored in 1% of active wallets.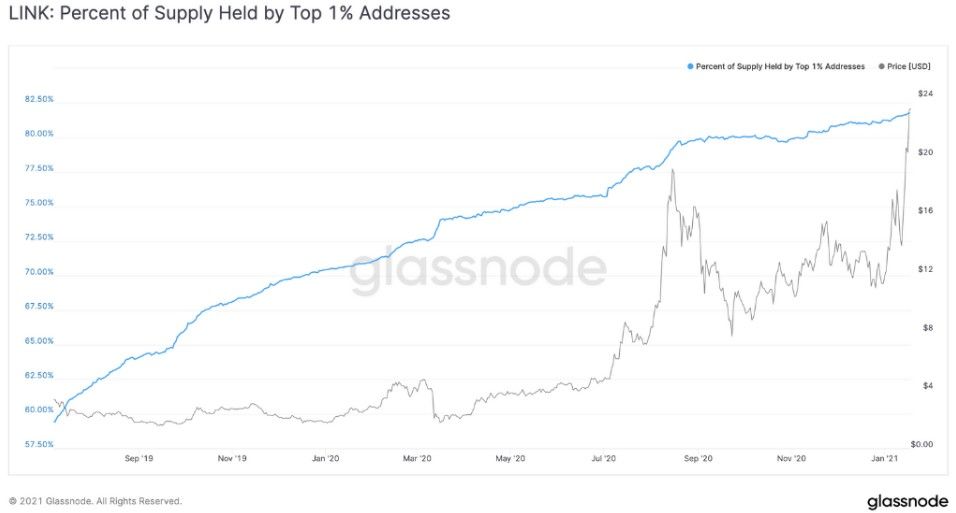 Since the beginning of the year, the LINK token rate has begun to grow sharply and has grown by more than 100%. Glassnode specialists noted that despite reaching record levels, the market sentiment remains bullish:
"The continuing concentration of the token on wallets suggests that LINK holders are positive and continue to build up their reserves," the study said.
Recall that in mid-December, one of the users lost 4,005 LINK, because they sent funds to the wrong address of the smart contract. At the current exchange rate, the value of lost tokens is $ 86,700.