According to research firm Glassnode, about 93% of all BTC addresses contain "profitable" bitcoins after the price of the cryptocurrency exceeded $ 11,000.
According to Glassnode, these addresses contain bitcoins, which have increased in value since they were transferred to the wallet. Now the number of such addresses has exceeded 93% of all BTC addresses. Moreover, on July 20, there were no more than 72% of such addresses.
Last time more than 90% of addresses contained BTC «profitable" in July and August 2019, when the Bitcoin was trading for $ 11 500. In early summer Glassnode reported that more than 60% are in the BTC treatment did not move during the year, as most investors have become stick to the HODL strategy.
According to Josh Olszewicz, a cryptocurrency trader at Techemy Capital, a high percentage of addresses with "profitable" BTC increases the likelihood that investors will sell bitcoins to lock in their profits. However, this does not mean that the price will not continue to rise, he added.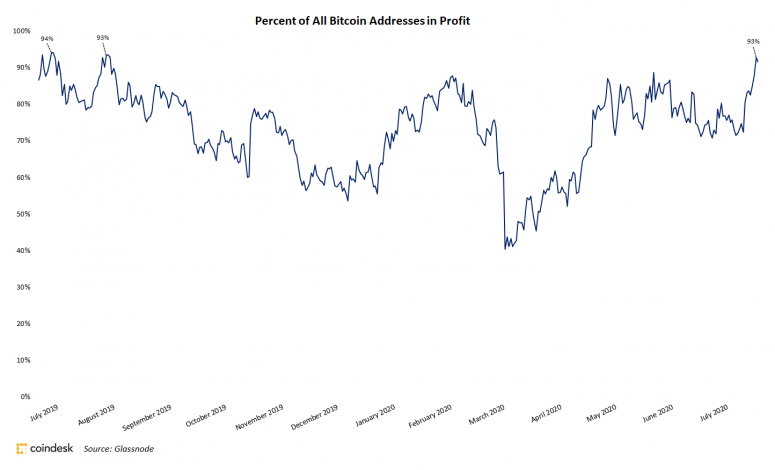 In early July, Glassnode reported that nearly 79% of the bitcoins in circulation remain profitable. At the time, analysts noted that when 95% or more of all BTC holders make a profit, it usually serves as a reliable indicator of a market peak.
At the turning point of the cryptocurrency rally in December 2017, this figure almost reached 100%. Conversely, when the reading falls below 50%, the market is considered to have bottomed out. This is exactly what happened during Black Thursday on March 12 and the fall of the markets in December 2018.