The number of large investors in BTC surged to a new all-time high during the market correction on Monday. "Whales" continued to buy cryptocurrency, which indicates the hope for a speedy rise in prices.
On the morning of January 11, the bitcoin rate showed a significant decline – the price of the cryptocurrency briefly reached $ 30,305. According to Glassnode, on that day, the number of bitcoin "whales" – clusters of cryptocurrency addresses with a balance of more than 1,000 BTC belonging to one network participant – rose to a new all-time high of 2 140 addresses.
The violent sale was accompanied by record trading volumes and an increase in the number of active addresses. Large investors are likely to expect the price pullback to be short-lived. The cryptocurrency has undergone more than 20% adjustments during previous bull markets. In addition, the latest trend is underpinned by institutional money, while previous rallies were more speculative.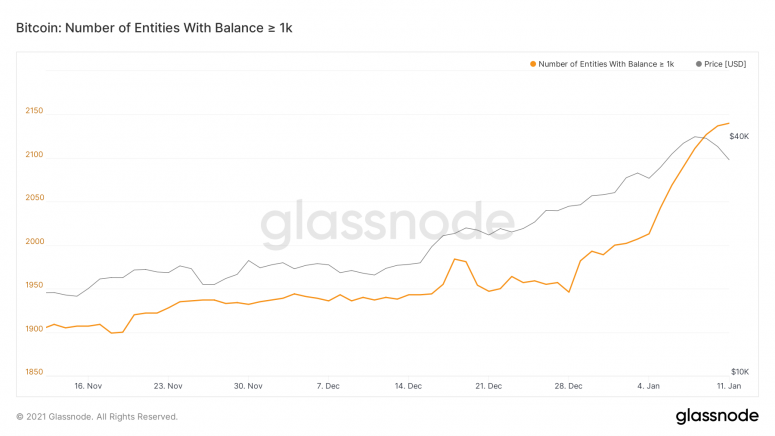 The number of BTC "whales" increased by almost 25% year on year. As noted technical director of analyst firm Glassnode Rafael Schultze-Kraft (Rafael Schultze-Kraft), «bullish» rally could resume soon.
In addition, the liquidity problems on the sales side that contributed to the explosive growth in Q3 2020 may persist as 78% of all bitcoins – 14.5 million BTC – are now illiquid.
"This allows us to predict a bullish trend for BTC in the coming months, as there are few bitcoins available on the network for purchase," says a recent report from Glassnode.
According to Glassnode, some hesitant retail investors who havetily divest their assets in the face of short-term drops in market value have liquidated their BTC. The number of addresses with a balance of less than 0.01 BTC decreased from 8.54 million to 8.53 million during the market correction.
It is worth noting that address-based metrics may not provide an accurate picture as one individual or legal entity may own multiple addresses. According to CoinMarketCap , Bitcoin is currently trading at $ 33,915 , showing a 4.32% decline in 24 hours.