According to a study by the analytic service Bitfury Crystal, in the first quarter of 2020, darknet users began to use bitcoin transaction mixing services more often.
Analysts note that in dollar terms, the volume of funds passing through Bitcoin mixers increased by 294%. The growth began back in the 3rd quarter of 2018, but a really sharp increase occurred in the 4th quarter of 2019 and the 1st quarter of 2020.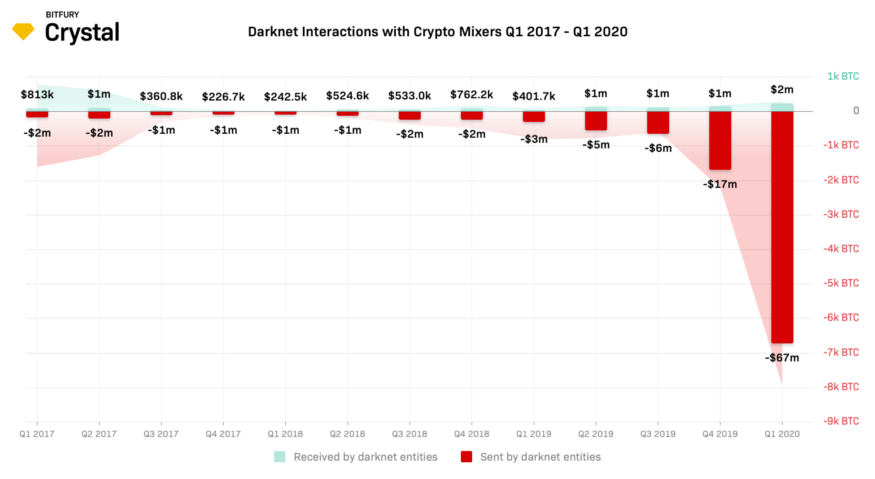 "The number of bitcoins transferred to mixers by darknet users increased from 790 BTC in the 1st quarter of 2019 to 7,496 BTC in the 1st quarter of 2020. In US dollars, a similar increase is noticeable – from $ 3 million to $ 67 million. Data indicate the rapid adoption of mixing services by darknet users, "the researchers write in their report .
The data was obtained from tracking "both direct and indirect transactions between clusters belonging to organizations from the darknet, as well as objects that do not belong to the darknet."
"Based on our research, the conclusion suggests itself is that exchanges that require user identification are becoming less popular for organizations to withdraw funds from the darknet. But mixing services are gaining popularity, "the analysts concluded.
Earlier, Elliptic , an analytical firm, reported that the number of transactions related to illegal activities using bitcoin was reduced to 1%.