Tether issued 2 billion USDT tokens in just a week. This is the largest weekly capitalization gain in the entire history of the token.
Today, 24.6 billion USDT tokens are circulating on the Ethereum, TRON and Bitcoin (Omni) blockchains. In just a year, the capitalization of stablecoin has grown from $ 4.8 billion to $ 24.6 billion.According to Alameda Research trader Sam Trabucco, the record growth in capitalization is due to the fact that people do not trust local banks and currencies, and USDT is the easiest way to buy dollars USA.
A significant amount of USDT is in demand when traders sell bitcoins en masse. As it was on January 11, when the rate of the first cryptocurrency fell to $ 31,000. Stablecoin is used as collateral when trading cryptocurrency derivatives, which also leaves an imprint on the need for USDT.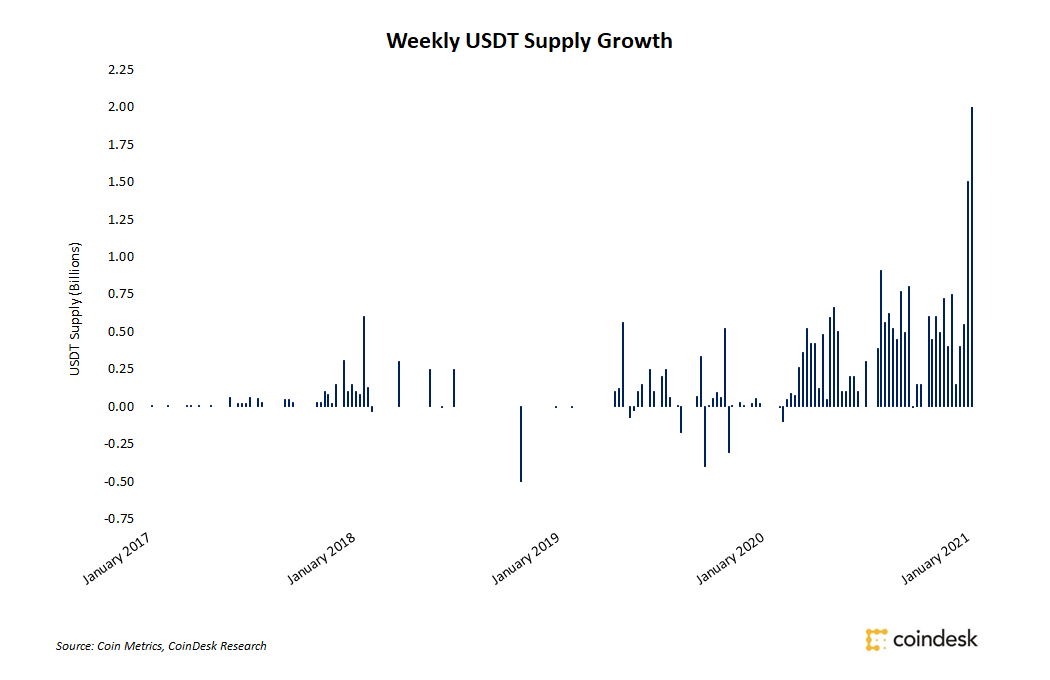 The first two weeks of 2021 were a record for the issuance of USDT. In the New Year's week, stablecoin capitalization increased by $ 1.5 billion.
It is also interesting that Tether does not provide any reports on the backing of tokens with real assets. Only in 2018, Deltec Bank issued an open letter in which it confirmed that $ 1.8 billion owned by Tether was kept in its accounts. At that time, this amount corresponded to the capitalization of the stablecoin.
Recall that on January 7, the capitalization of the entire cryptocurrency market for the first time in history exceeded $ 1 trillion.